COOKING RELIGION
The kitchen as identity

BY ELEONORA MARINO
CREATED IN 2006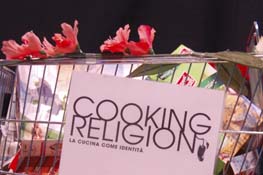 "Cooking Religion is an hymn to the pleasure of food and to the poetry of daily gestures…" Ansa

"We are in the kitchen ... and we are at the same time in a theatre: great magic… This delicious show takes its inspiration from both ancient and modern sources. It's a "must-see". La Stampa
"The Ecclesiasts and the gnocchi are only two of the multiple ingredients that are smartly mixed by Eleonora Marino… Words are not the only language on the stage. There is also the language of body, dance, movement and a video projected on a tablecloth …". Slowfood
« And the ancient moves of kneading, chopping, frying and tasting creates the occasion of a journey and an investigation of the Italian culture and traditions. » Il Gazzettino
"A creation that speaks of lost identity, lost rituals, and their importance through the metaphor of cooking and the kitchen." Focus
WRITTEN AND DIRECTED BY : ELEONORA MARINO
MUSIC : MICHELE TADINI
VIDEO AND SET DESIGN : MASSIMO NEGRI AND ELEONORA MARINO
CAST : VALERIE ALANE AND ELEONORA MARINO
SOUND AND LIGHTING : MATHIEU BOUILLON
Pictures, fragments of life, characters, ageless evocation of forgotten history, are being brought into the light, exposed and then vanish.
Created in 2006, this show is also the starting point of the project "Cooking - the journey." Combining theatre, dance, video and live cooking, it delivers a new look at the culinary-poetic subject and its metaphors.
Performance of taste, taste of performance: the preparation of a meal invites us to a sensorial, auditory, olfactory and visual trip that reminds us of the spiritual value of the cooking rite, during times where frozen food and ravioli cans are reigning.
Tagliatelle, tagliatella nervata, tempestine, tempesta, torciglioni, torta di vermicelli, tortellini, etc. the endless list of pasta varieties reveals the diversification of Italian Cooking and its local roots, mirrors its cultural, historical and linguistic fragmentation. Local Cooking which is intimately connected to Religion to the point it becomes one religion in itself, where pasta cooking time was measured until recently in "Ave Maria"…
The loss of cultural identity and the modern perception of time are referred to through the metaphor of the kitchen.
The Kitchen… Place for prayers, place for consumption. Unique and timeless stage of organic material transformation. Place for power. Place for life and death.
With the support of :



and Fondation Lauren Pickard Paris Celebration Series