PANE
Everyone seeks their bread

BY ELEONORA MARINO
ARTISTIC RESIDENCE AT PARC DE LA VILLETTE
AND AT 104-ETABLISSEMENT DE LA VILLE DE PARIS
2011-2012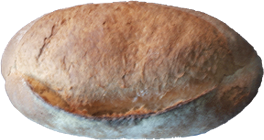 Each seeks his bread ... Every couple seeks their bread...
A man and a woman, travelling to different worlds, through space and time. During this quest, the characters reveal themselves in their relationship to bread, which hides the link to life, sharing, sacredness, absence, but also junk food and revolt. From scene to scene, PANE tells a dreamlike story where the bread becomes an object of art and a poetic partition.
The show depicts the variation of the couples taking on different identities, both concrete and constant: all representing "humanity". Pane explores the symbolic universe of bread, its origins, its consumption and its diversity.
It embarks the viewer on a journey with no artistic or geographical borders, where yesteryear stand alongside today, where Africa is confronted by the West, where the excess outweighs the lack.
Bread, the staple of human life, is an object that allows sharing, but it is also an object of power and control.
WRITTEN AND DIRECTED BY : ELEONORA MARINO
CAST : LINDA MASSOZ AND YANNICK LAURENT
MUSIC : DANIELE SEGRE AMAR
SETS AND COSTUMES : LUCA ANTONUCCI AND ELEONORA MARINO
VIDEO : BERTRAND MARTINEAU AND ELEONORA MARINO
SOUND AND LIGHTING : MATHIEU BOUILLON
The bread, the raw material of the life of the people, is an object of sharing, meeting, but also an object of tension and fight.

« After its residence at Halle aux Cuirs at Parc de la Villette, the EMTHEATRE company shows a work in progress of its new creation PANE […] Welcome in this human adventure where commitment, freedom and art will be there ». L'Italie à Paris
« On stage, two actors, a woman and a man, who represent both shutters of this collection, the yin and the yang [...] This project represents the militant spirit of EMTHEATRE […]: the bread as the manifesto against the globalization and the formatting ». Focus In
With the support of: